My encaustic jewelry art rings have layers paper, silks, pigments, and found objects into layers of encaustic wax – hot beeswax with damar resin.
The ring bowl, is cut and hammered out of an old hot water cylinder and rivitted onto a stirling silver ring shank before layering in the encaustic and embellishments.
This glowing red, black and white Art ring has layers of silk, hand made papers, gold leaf and pigments layered into the wax.
Hammered off center is a silver nail.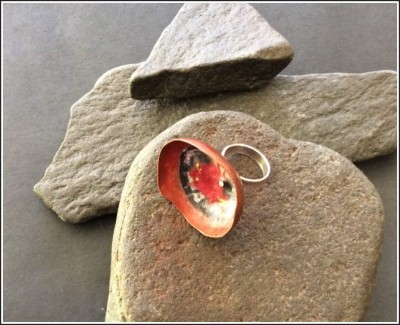 The edges and the back of the ring has pigments and wax rubbed into the copper, with the natural patina of the copper shining through. The piece is protected with micro crystalline wax.
I would not recommend immersing these pieces in water, however if it gets wet, simply blot dry. Don't leave my encaustic wax pieces in the sun, they probably won't melt unless they are in a very hot place, such as a car, but they will soften.