~Welcome to the world of Annie Desantis~
I hope you enjoy my creations
as much as I love making them.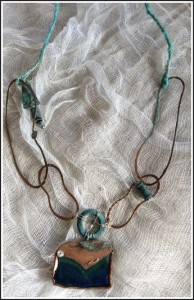 I have a commitment to using recycled material as much as possible to minimize the impact my work has on the environment. I am particularly interested in re-purposing objects that have been discarded and creating something of beauty or interest. Many of my pieces are hammered from pieces of old hot water cylinders or electrical wire.
My creativity is also an expression of my spirituality, and many pieces incorporate symbolism, or have been made as part of a ritual or meditation process, particularly my Talisman Neckpieces, which can be used as hanging decorations or blessings in addition to being worn.
I use recycled silver in my work, either wire or precious metal clay, which is reclaimed silver in a clay binder. You can read more about PMC on my pure silver jewelry pages.
As a departure from jewelry, I am exploring encaustic wax as a medium for embedding, blending pigments and marrying functionality with art. I hand made little bowls, then the fun begins.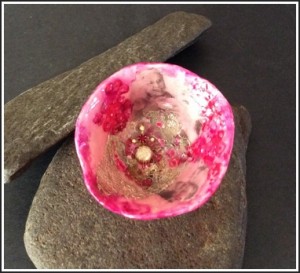 I am also loving making bespoke memory bowls – which are little bowls hand made with paper clay (recycled fibres of course!) which I then embellish with objects, images, text or memorabilia layered into encaustic wax and pigments.
My drawer pulls or cupboard knobs are another way of making art functional. With endless possibilities for colour using pigments, encaustic wax, image transfers, these knobs are heaps of fun.
If you wish to discuss a commission or if you are interested in any of my pieces please contact me: beannied AT gmail.com
Please bear with me ~ this site is still under construction so it will look a little weird for a while!