These dainty fine silver earrings are made from PMC – precious metal clay. This wondrous stuff is made from recycled or reclaimed silver ground into a clay binder. This opens up so many possibilities for creating jewelry – carved, stamped, rolled, shaped. The clay binder burns off on firing and we are left with pure silver.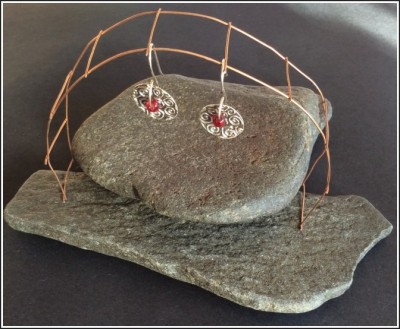 The small circles are shaped and cut and stamped with a spiral pattern before firing. Threaded with a recycled red glass bead on hand made sterling silver ear wires.
The patina is added in the recesses as a final step to make the spiral pattern pop – then the earrings are polished and protected with micro crystalline wax.