This neckpiece is a collection of recycled elements! The lime and yellow sari silk in the centre focal piece, is factory waste that I buy from women in India. Some of the tiny treasures I have unearthed among the scraps are gorgeous.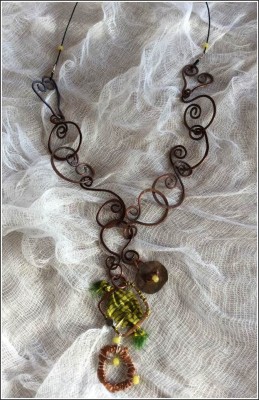 The silk is wrapped with enameled copper wire around a square hammered copper wire piece made from recycled electrical wire with a hammered solder bead (blob actually!)
The lower circle is wound with teeny tiny wires I reclaim from old speakers, hammered, then partly wrapped in pure silver wire and hung with tiny recycled lemon yellow glass beads. These tiny glass beads are hand made in sand with fire from crushed glass in Africa. No fancy kilns or even electricity! Amazing how creative people always find ways to work, but more importantly these tiny treasures are their livelihood.
The dangle on the right hand side is a hammered piece of brass found in my local scrap yard, threaded with another tiny lemon recycled hand made bead.
The chain is made from individual hammered curly links, with a leather thong around the neck, attached with pure silver wrapping and two more tiny lemon recycled glass beads.