My encaustic bowls are handcrafted from paper clay, using recycled paper, layered with wax, pigments, papers, found objects . . . anything!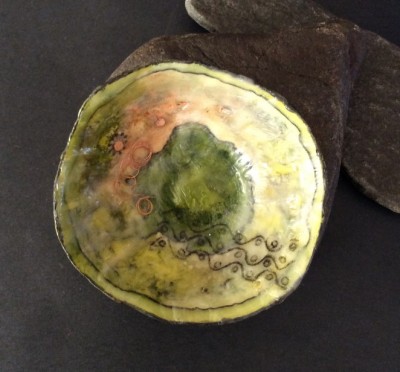 This Copperlime bowl stands approx 3.5cm high, with a 8.5cm diameter. Encaustic wax – which is hot beeswax mixed with damar resin and pigments, is layered over inks, pigments, images and objects.
This bowl has two copper nails inserted, and a curl of fine copper wire recycled from old speakers. Marks have been sgraffito'd into the surface. Sgraffito is a technique of scratching back into the under-layers of a piece to reveal the layers beneath. Pigments are also rubbed in to highlight the mark making.
Images and paper have also been layered into this piece.