Blue Moon is another neckpiece from my series "I used to be a hot water cylinder".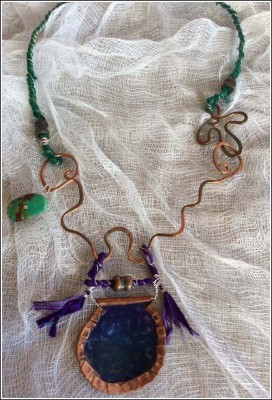 The focal piece is cut, hammered and folded from an old hot water cylinder. It has layers and layers of pigments and wax giving it luminosity.
It is attached to hammered reclaimed copper, threaded with beads that have been cut and hammered from old refrigerator pipe, and coloured with pigments and wax.
Factory waste sari silk that has been wrapped in pure silver wire attaches round the back of the piece, and a focal bead of howlite, threaded with a silver nail hangs to one side.