My series "I used to be a hot water cylinder" grew out fossicking round scrap yards and have one fabulous man "Hillbilly" who tucks aside interesting pieces of metal for me. I have a stash of old hot water cylinders which I cut, hammer, roll and shape.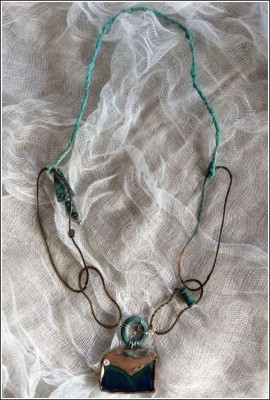 Blue Dreaming has a focal piece that is hammered and rolled from a piece of hot water cylinder. Then coloured with layers and layers of Prisma colours and pigments.
The beads are hand made also, hammered from reclaimed plumber's pipe and coloured with layers of patina in several processes and waxed. Attached to hammered and soldered electrical wire, also hand waxed and coloured, around the back of the neck, factory waste sari silk that has been wrapped in pure silver wire (recycled of course!).
Blue Dreaming is embellished with smaller hot water cylinder pieces, and pure silver spirals.